Manage Cost, Optimise Productivity & Protect Your Assets
Take your fleet operation to the next level with wireless asset management from Yale. Leading edge Yale Vision provides true wireless fleet management, and can drive fleet efficiency, reduce downtime and improve operator performance. The knowledgeable team at SG Equipment plus Yale Vison technology, can help you get the most out of every forklift in your fleet.
Yale Vision is the only telemetry solution designed and supported by Yale, available on new equipment, and as an easy retrofit for existing trucks in your fleet. Mixed fleets are no problem. S G Equipment can offer you the option of equipping other branded forklifts with Yale Vision technology providing a solution for your entire fleet.
Manage your total cost of operation
Knowing your total cost of operation (TCO) provides business intelligence above and beyond simply knowing asset ownership costs. Improving cost management of forklifts, fleets and labour is made possible with comprehensive monitoring and reporting of operational costs which can include contract costs, maintenance, acquisition, labour (when operator access data is enabled) and more. Cost of operation can be viewed and analysed by forklift, by fleet and by location. You'll benefit with increased knowledge of actual fleet utilisation and costs, to help you get the most value from your lift truck assets.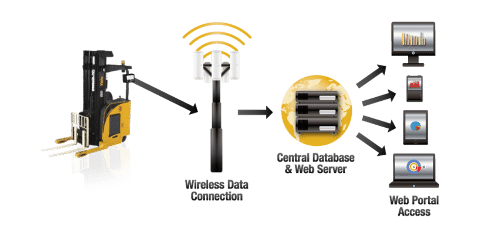 Ensure maximum productivity from your forklift investment
Upsize, downsize, right size, optimise – see what your fleet's doing with Yale Vision. If you can't see it, you can't fix it. With remote hour meter/usage tracking reports, you will have access to data and reports showing utilisation from individual trucks all the way to entire fleets. This data enables optimization of fleet size, structure and location for maximum productivity and minimum idle time. When it comes to fleet management, Yale Vision lets you see what you need to see to help ensure the right size fleet for maximum productivity and efficiency.
Monitor operator behaviour, promote safety
Whether you own or lease, your forklift fleet represents a significant investment – an investment that needs to be protected from abuse, neglect and unauthorised operation. Yale Vision helps promote improved operator performance through impact alerts, maintenance tracking and management, and truck operator limitations (when access control is enabled). Using standard OSHA pre-shift checklists or specific industry-mandated checklists, this Yale Vision option ensures that the truck will not operate until the operator has completed the checklist(s). It's peace of mind, around the clock and throughout the fleet, wherever your trucks are located. Once you see the reports on your Yale units you'll want to equip all the trucks in your fleet with the same capability.
Web-Based Asset Management, From Anywhere At Any Time
Access the Yale Vision portal via any device with an internet connection and you'll see every truck in your fleet that's been equipped with the compact and rugged telemetry module. The system communicates via cellular or Wi-Fi connection to our secure Yale Vision portal. A customised dashboard handles the data analysis, providing clear, concise and interactive reports to enable assessment of fleet performance, efficiency and operator performance.
Three levels of management, ranging from Wireless Monitoring to Wireless Access to Wireless Verification, provide you a customised level of asset management for your operation – with a clear upgrade path if your needs change over time.
Talk to us today about how Yale Vision can benefit your business
09 268 4610
Te Puke (07) 281 1870
10 Marphona Cresent, Takanini,
Auckland 2105
6 Te Puke Quarry Road, Te Puke.
PO Box 97156, Manukau City,
Auckland 2241
Open 24hours.
SIGN UP TO OUR NEWSLETTER
© Copyright 2022 TSG Equipment. All Rights Reserved.