Power solutions: is Lithium-ion right for you?
Alternative power solutions are a rapidly growing aspect of the materials handling industry as customers become increasingly guided by the environmental impact of their choices.
Yale offers a wide range of solutions from internal combustion engines to lead-acid and lithium-ion batteries.
Lithium-ion is becoming more commercially viable for a wide range of industries, who benefit from increased productivity and lower total costs of ownership.
Over the last decade, innovative energy solutions have proved to be a positive disruption to a wide range of industries, including the materials handling sector. When used in the right application, electric powered equipment can provide efficiency and savings for customers – but it's not for everyone. Yale Europe Materials Handling has invested in a diverse range of solutions, with its industry experts guiding its customers to the most appropriate options to meet their specific needs.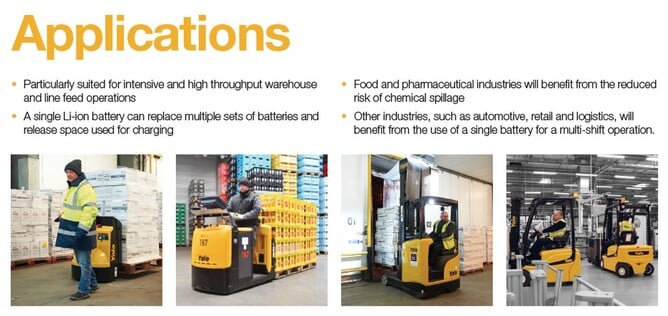 Identifying the best solution
Yale offers a wide range of power solutions for its products, from internal combustion engines to fully electric power. One of the most popular of these solutions among customers is proving to be lithium-ion batteries, which can ensure greater productivity and improved total costs when deployed in the right application.
"Use of lithium-ion batteries has seen rapid growth over recent years, with more and more customers finding this battery technology commercially viable, from food and pharmaceutical applications, benefitting from the reduced risk of chemical spillage, to automotive, retail and logistics applications, reaping the rewards of utilising a single battery for a multi-shift operation," said Veronica.
For a technology that is now considered mature and widely used, there still appears to be some uncertainty in the eyes of logistics operators: can lithium-ion batteries provide an effective and significant advantage over traditional lead-acid batteries? And is the higher initial cost adequately offset by a significant reduction in annual operating costs?
The reality is this is not a simple comparison between solutions and data – customers' needs do not always correspond perfectly with the use of lithium-ion batteries. Yale provides support and guidance to its customers during the decision-making process, using its knowledge and understanding of challenges and pain points to advise on the best solution for individual applications.
The benefits of lithium-ion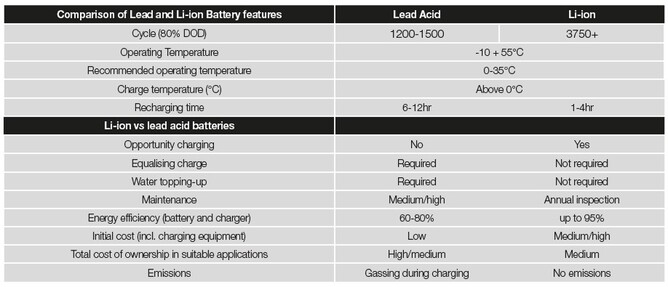 The lithium-ion solutions help customers optimise their utilisation in multi-shift applications by eliminating the need for replacement batteries and battery change-overs. Space previously used for battery charging can now be used for more productive purposes, such as storage space or production.
"Fast charging times and opportunity charging capabilities allow Yale trucks to be charged during shift breaks, with no adverse effect on the battery life. This extends the operating range of the single lithium-ion battery to cover tasks traditionally accomplished with multiple lead-acid batteries, or with LPG and diesel trucks," added Veronica.
Cost savings are significant compared to fuel-powered trucks and the efficiency of the lithium-ion battery is considerably higher than lead-acid. When coupled with time savings for battery exchange and maintenance, lithium-ion can give lower overall operating costs in more intensive applications.
"Lithium-ion batteries are virtually maintenance-free, require no periodic top-up of the water level as with lead-acid battery and have an increased number of charging cycles possible – as much as 3750 at 50% discharge vs 1200 with a lead-acid battery," said Veronica.
Due to the speed of innovation, it is important that companies in the materials handling industry monitor trends in power solutions to determine what may be viable options for customers in the near future.
"We recognise power solutions for materials handling equipment are constantly evolving, that's why we are always continuing to develop our power options and invest in new technologies to anticipate future customer requirements," concluded Veronica.
SIGN UP TO OUR NEWSLETTER
© Copyright 2023 SG EQUIPMENT All Rights Reserved.